Brendon Sewill, who led the Gatwick Area Conservation Campaign for many years has published a book containing lots of historical insights
'Why is Gatwick one of the few major airports in the world with only one runway?' asks Brendon Sewill in 'Tangled Wings: Living with a Runway on my Doorstep'. The answer, he argues, lies partly in it being built in a place where it could not be expanded without substantial environmental damage, and partly in the determination of the local residents who have run a series of campaigns, to prevent that from happening.
The first edition of Tangled Wings told the story of Gatwick from grass runways in the 1930s to the 2010 election when the Coalition Government ruled out any new runway. But in 2013 the Gatwick residents faced yet another runway threat. This new online edition brings the story up-to-date with a description of the 2013-16 runway campaign.
Brendon Sewill, who led the Gatwick Area Conservation Campaign said:
'This was a story that needed to be told. This time we were up against a massive international hedge-fund prepared to spend almost unlimited money, while we were armed with nothing more than fierce determination, rational arguments and a sense of humour'.

The simple way to deal with this,' he writes, 'is to tax aviation fuel. Most people find it hard to believe that there is absolutely no tax on aircraft fuel. But action has got to be taken by all countries acting together. And the best time to achieve that will be at the COP26 climate change conference in Glasgow in November 2021'.
You can download Tangled Wings HERE.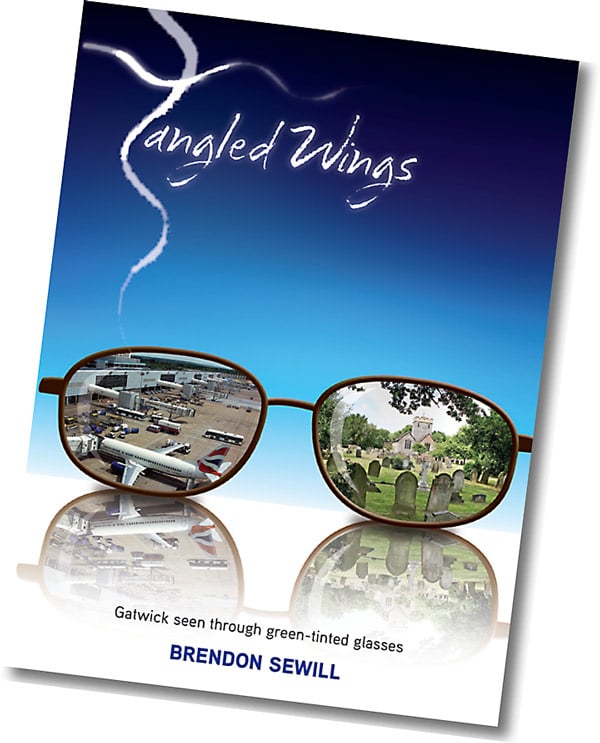 PROTECTING THE GATWICK AREA

GACC Campaign Office
2 Glovers Gate, Glovers Road, Charlwood, Surrey. RH6 0EP
Telephone: 01293 862821
© Copyright Gatwick Area Conservation Campaign