Gatwick Airport and Climate Change
Fastest Growing Transport Sector
Aviation has been the fastest growing source of climate emissions worldwide and is the highest carbon emitting form of transport. Aviation is responsible for around 10% of UK emissions – far higher than the global average. [1]
Hard-to-Decarbonise
Aviation is referred to by both the government's climate change advisors[2] as a hard-to-decarbonise sector. The UK's energy transitions commission said that the response should be to firstly limit demand growth, then improve energy efficiency before applying decarbonisation technologies.[3] This should form the order that the UK government and individual airports produce their decarbonisation plans for the sector.
No techno-fix on the horizon
This reduction in flights as a first step is crucial because new technology solutions are not yet commercial main-streamed and certainly not available at the scale of current aircraft movements worldwide. Cambridge academics have called for current fossil-fuel powered flights to be reduced now, and only reinstated once such alternatives become a reality.[4] We cannot keep on with flights on the hope that action occurs later.
Gatwick's Big Enough
Therefore, the first and crucial step in addressing Gatwick's climate footprint is to not just accept that Gatwick's Big Enough.

This means no second runway or increased use of the current emergency runway. Instead Gatwick must progressively reduce its carbon footprint. This must include the full impact of flights to and from the airport, and these be included both within the airport's and governments carbon budgets. This is therefore action that sits within the responsibility of Gatwick Airport itself, rather than the airlines that use it.
Building Back Better means 'Rightsizing' Gatwick
Following Covid-19's reduction in air travel GACC have called for Gatwick to be right-sized. Gatwick Airport's 'green recovery' should follow that of the Build Back Better[5] campaign nationally, which declares that, "It's time for a new deal that protects public services, tackles inequality in our communities, provides secure well-paid jobs and creates a shockproof economy which can fight the climate crisis." GACC has called out Gatwick's plans to simply restore current flight numbers without fully engaging in the Build Back Better campaign.
Instead Gatwick needs to use this as an opportunity to scale-down Gatwick's ambitions and review operations to help support a just transition to jobs that shift Crawley and the surrounding area to a zero carbon local economy instead.
[1] See https://www.aef.org.uk/what-we-do/climate/
[2] Committee on Climate Change (2019) Net zero – the UK's contribution to stopping global warming. https://www.theccc.org.uk/publication/net-zero-the-uks-contribution-to-stopping-global-warming/.
[3] Energy Transitions Commission (2020) Mission Possible: Reaching Net Zero Carbon Emissions from Harder-to-Abate Sectors by Mid Century (Executive Summary). https://www.energy-transitions.org/wp-content/uploads/2020/08/ETC_MissionPossible_ReportSummary_English.pdf
[4] Allwood, J, Dunant, CF, Lupton, RC et al. (2019) Absolute Zero: Delivering the UK's Climate Change Commitment with Incremental Changes to Today's Technologies. Published by UK Fires (2019) ukfires.org/wp-content/uploads/2019/11/Absolute-Zero-online.pdf
The personal dimension
Flying is the single most carbon-intensive thing that most people can do. One transatlantic flight generates more CO2 than a year's worth of driving or eating meat for a year.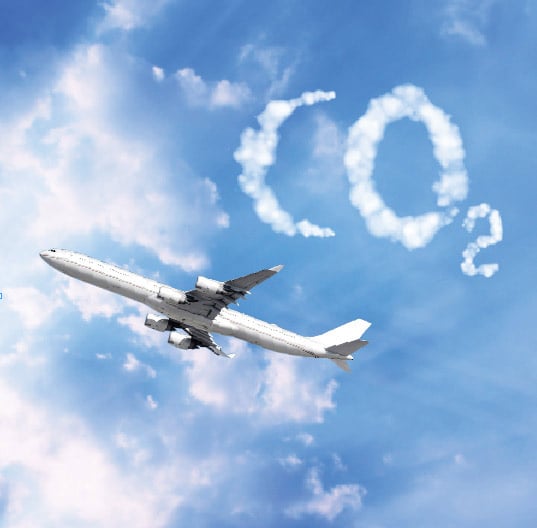 The good news is that reducing the amount you fly is the easiest way to reduce your carbon footprint. So next time you're thinking of flying please do consider whether you need to. There may be other, less carbon intensive, and perhaps more entertaining, ways to travel, for example by train. You might even want to pledge to be flight free for a while, see details HERE.
Gatwick's contribution to the problem
Gatwick doesn't publish data on the total CO2 emissions it is responsible for. Its environmental reports tell you how much the airport itself emitted and even how much passengers emitted getting to the airport. But you won't find data on emissions from the flights that use the airport.
However, the Department for Transport estimated that Gatwick was responsible for about 4.5 million tonnes of C02 in 2016. Analysis by the Aviation Environment Federation suggests that Gatwick's emissions could increase by almost 1m tonnes if its Masterplan expansion proposals go ahead. Their report is here...
https://www.aef.org.uk/2019/08/15/why-gatwick-expansion-adds-to-the-aviation-carbon-headache/
PROTECTING THE GATWICK AREA

GACC Campaign Office
2 Glovers Gate, Glovers Road, Charlwood, Surrey. RH6 0EP
Telephone: 01293 862821
© Copyright Gatwick Area Conservation Campaign