About the Gatwick Area Conservation Campaign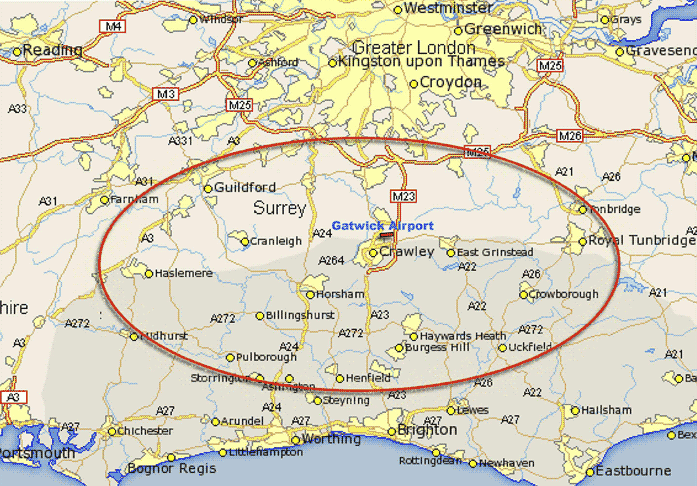 Approximate area covered by GACC membership
The Gatwick Area Conservation Campaign is a voluntary association, with an executive committee elected each year at our AGM. Care is taken to ensure that our committee includes representatives from each area around the airport, and that each committee member is prepared to work for the general public welfare of the whole Gatwick area.
GACC is totally law abiding, and relies on rational argument to influence government and aviation authorities.
Because we represent the whole area around Gatwick, because we are democratically elected, and because we have established a high reputation for accuracy and constructive proposals, we have strong support from local MPs and considerable influence in Westminster and Whitehall.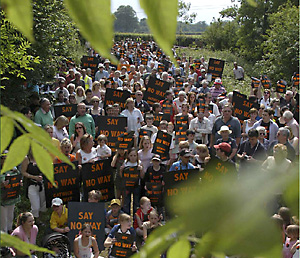 GACC runway protests
Edolphs Copse 2003 (above) Ifield November 2014 (below)
GACC officers
Chairman Peter Barclay chairman@gacc.org.uk
Press Enquiries info@gacc.org.uk
Membership Secretary membership@gacc.org.uk
Except where shown please email info@gacc.org.uk to contact us on matters other than press or membership queries.
We have 15 members of our committee, elected annually at our AGM. They come from Charlwood, Coldharbour, Crawley, Forest Green, Horley, Nutley, Reigate, Smallfield, and Warnham. If you would like to join our committee and are prepared to work for the environmental improvement of the whole area around Gatwick, please get in touch.
P R O T E C T I N G T H E G A T W I C K A R E A